interview
Ryan Gander 'Shinto and Art'
2018.09.08 Thu 14:23
This is an article on Ryan Gander, was originally featured in the free paper "Dazaifu Jiman".
——–
Shinto and Art
For Ryan Gander, both shrines and Shinto are totally alien culture. 'Coming from the UK, there was an element of culture shock not only in association with the Japanese culture in general but also the notion of Shintoism. I had to spend a great deal of time learning about to understand, reading and thinking and visiting the shrine and talking to its users.' He continues. 'Interestingly, there are many similarities between a Shinto way and a conceptual art practice. There is a enormous amount of faith, belief and trust involved in both, but also a great deal of investment of time… in researching, understanding, considering and reflection. A spectator gets very little from a conceptually based artwork unless they give and invest their time and patience and energy and intrigue into understanding. It is not entertainment, it is more like a cycle of learning and developing and evolving the mind, much like visiting a temple.
One day, he witnessed people praying to invisible deity (Kami) at the main sanctuary of Dazaifu Tenmangu. In addition, I was told there is a room hidden inside the shrine, where only the family line of Sugawara Michizane are allowed to enter, no one else has ever been there. This seems like a ready made artwork to me, maybe one I should have made myself a long time ago. Apparently, important things are not only visible in Shinto belief.
From here, Gander's idea boldly jumps humorously.
Believe in absence
For instance, the work entitled "Consequence of evidence" is an installation of a shattered vitrine. The wakizashi (a short sword), owned by the shrine that should be inside is gone. In fact, Wakizashi was stolen in 1974 and had already been lost from the shrine, and its absence was apparent.
It seems as if the artist is winking from behind the artwork. 'Is existing important? Or is it important to believe that there was?'
All his works are in this manner. In Gander's hands, the behavior and feelings that were not described in words are illuminated in reverse and lined up in a surprising form in front of you.
It was the same for Gander. He said 'Actually, my experience of the shrine has influenced the work I still make today in Mexico City, or New York or Paris, I have taken the Shinto influence with me internationally, it is sometimes hard for me to notice but when I stop to think and look at the work I am making today I can see reference points and visual quotes that relate back to my experience at Dazaifu.'
Text by Keiko Asano (nico edit)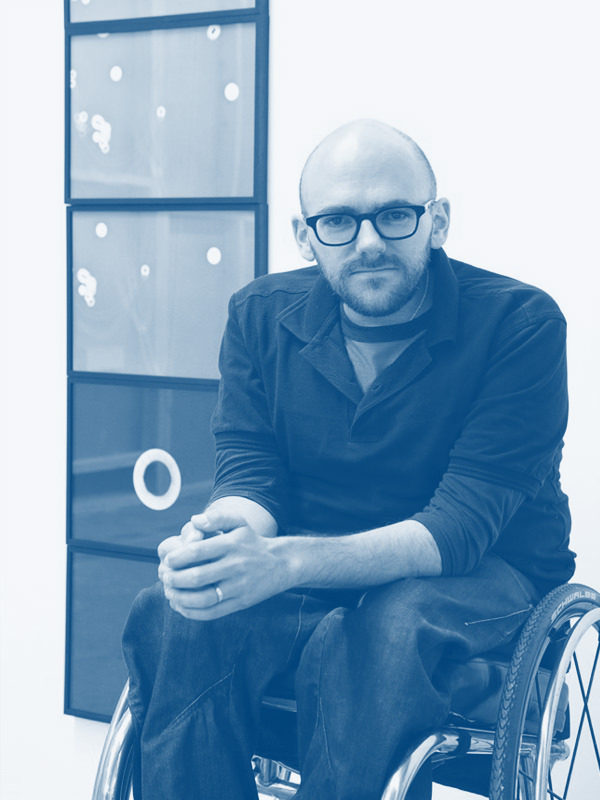 Photograph: Julian Abrams
Ryan Gander
Born in 1976 in Chester, U.K.. Lives and works in London and Suffolk. His solo international exhibition 'Make every show like it's your last' was recently on show from Europe to the Americas. (The exhibition made a tour until 2016 at seven museums in six countries, e.g. Le Plateau, Paris; Manchester art gallery, etc.) He participated in numerous eminent exhibitions such as 'dOCUMENTA (13)', Kassel, West Germany, in 2012; 'IllumiNATIONS, La Biennale di Venezia', in 2011, etc. In Japan, he held solo exhibition 'Icarus Falling – An exhibition lost', Maison Hermès, Tokyo, in 2011; and 'Ryan Gander –These wings aren't for flying', National Museum of Art, Osaka, in 2017. He also participated in 'Our Magic Hour, Yokohama Triennale', Kanagawa, in 2011.