interview
Simon Fujiwara 'Real and fake don't exist.'
2018.09.08 Thu 15:43
This is an article on Simon Fujiwara, was originally featured in the free paper "Dazaifu Jiman".
——–
Real and Fake
Simon Fujiwara created four 'Rocks' for the shrine precinct. Actually three of them are made of concrete and are fake rocks made by Fujiwara.
'In my introduction to Shinto in general I was struck how the rock was such a strong feature and symbol in many holy places. After my first visits to shinto places I began to look at other holy sites in other religions and found similar tendencies, whether it is the Ka'ba or the dome of the rock, stone and geology play important roles in faith which in turn is a way to find meaning. 'Despite the fact that many Christians visit 'the Stone of the Anointing' in the Church of the Holy Sepulcher, kiss and rub their clothes as where it is claimed Jesus Christ's body was prepared for burial, Fujiwara discovered that was a reproduction. 'Real and fake don't exist. They are inventions – if we liberate ourselves from this idea, we can experience the world more authentically'.
Existing for thousand years
The rocks created by Fujiwara have different back stories related to Dazaifu Tenmangu Shrine. People may resonate with the stories, and the rocks that were fake at first may become "sacred" a thousand years later. Because the object of faith we see now may have started this way.
'I wanted the works to become activated when they came into contact with the Dazaifu community. For example, one rock has the hand prints of students from the kindergarten and was painted under the Emadou pavilion where a number of paintings hang, their images slowly disappearing. In one way the hand prints are a record of the individual students but in another they are very abstract –  when we look at cave paintings of hands, we don't know the intentions of the painters, we can only assume they wanted to leave a record of existence, of human impact on nature. I intended to make works that survive 1000 years, but I know this is impossible to predict, and even if they do survive, what will they mean to future peoples? I wanted to performance to highlight the preciousness of the moment and privilege us as witnesses of time passing.'
Text by Keiko Asano (nico edit)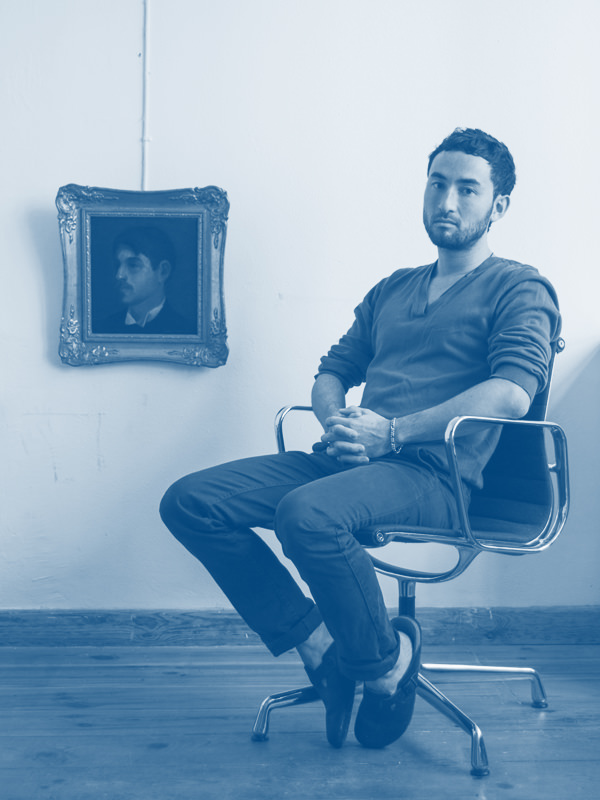 Courtesy of the artist
Simon Fujiwara
Born in 1982 in London, U.K. He holds a BA in Architecture from Cambridge University and studied Fine Art at Städelschule, Staatliche Hochschule für Bildende Künste, Frankfurt, Germany. Fujiwara is known for his multimedia installations typically involve markedly performative lectures, architecture, and various literary forms, allowing for creative self-invention and an evolving exploration of the history of his family (the mother British, the father Japanese), and the nature of human history.
He won the Cartier Award in Frieze Art Fair in 2010. He held the large scale solo exhibitions including 'Simon Fujiwara : Since 1982', Tate St Ives, U.K. in 2012; 'Grand Tour', Kunstverein Braunschweig, Germany, in 2013, etc. On the other hand, he was invited to numerous international exhibitions such as 'Roppongi Crossing 2013: Out of Doubt', Mori Art Museum, Tokyo; 'Imagineering Okayama Art Project', in 2014; 'Parasophia: Kyoto International Festival of Contemporary Art', in 2015, etc.