Dazaifu Tenmangu Collection Works by Kambe Tomoyuki
Date

2023.02.11 - 2023.06.04

Artist

category
Kambe Tomoyuki (born in Gifu Prefecture in 1975) is a Japanese-style painter. He has studied and developed a style of painting that is grounded in classical techniques and uses applied layers of colors on a base of foil, ultra-thin washi paper, and more colors. The unique atmosphere and perspective of his paintings are serene, yet the grandeur of the world that can be seen in the lives of small creatures that exist there are also in tune with the Shinto concept of the many forms of natural life force as different manifestations of the divine.
Since moving to Dazaifu in 2014, Kambe has been working on the creation of sliding door (Fusuma) paintings for the shrine's Bunshokan while experiencing closely the changing seasons on the shrine grounds. Prior the completion of the paintings, this exhibition introduced Kambe's works collected by the shrine.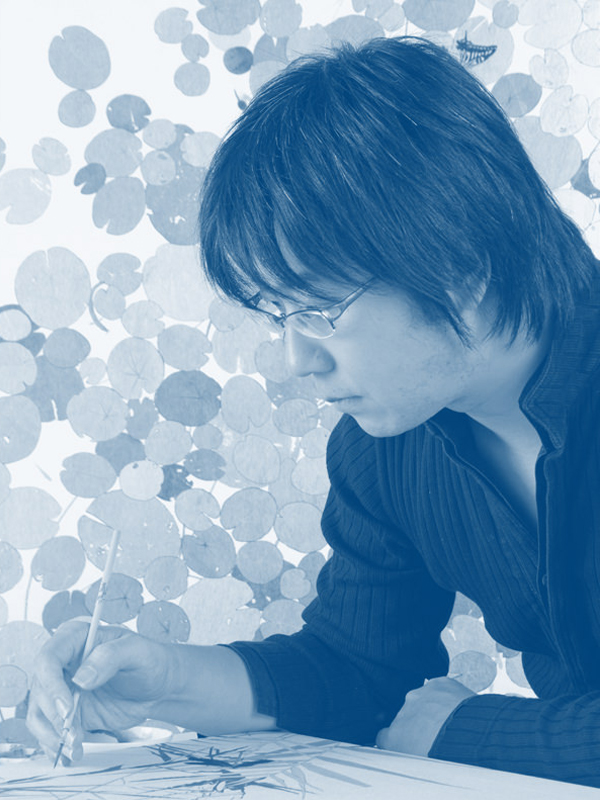 Courtesy of the artist
Tomoyuki Kambe
Born in 1975 in Gifu, Japan. After the graduation from Tama Art University in 1999, he elected as a 9th Sato International Cultural Scholarship Foundation scholarship student. Graduated from Tama Art University, M.F.A Tokyo in 2001. As the Japanese culture Affaires abroad training member, he studied in Boston from 2008 to 2009. Thereafter he held 'DOMANI: The Art of Tomorrow 2010' Exhibition (The Achievements of the Japanese Government Overseas Study Program for Artists), The National Art Center, Tokyo, in 2010. He held numerous exhibitions such as 'Top Runners - Young Japanese Painters', Takasaki Tower Art Museum, Gunma, in 2011; 'Innocent World', Sato Art Museum, Tokyo, in 2011 etc.