Shinichi Mita in-Spire -Breath of life
Date

2023.06.10 - 2023.08.27

category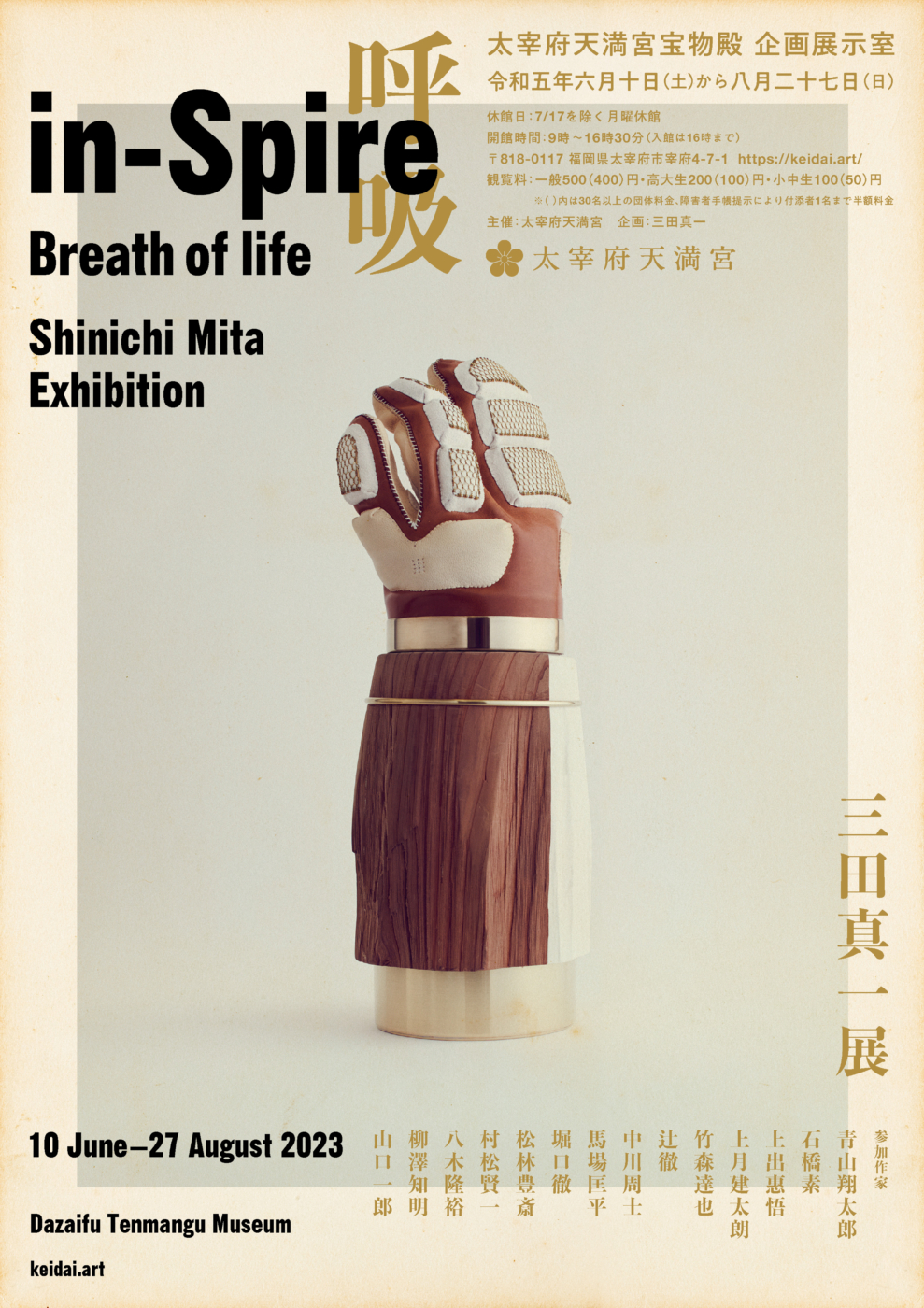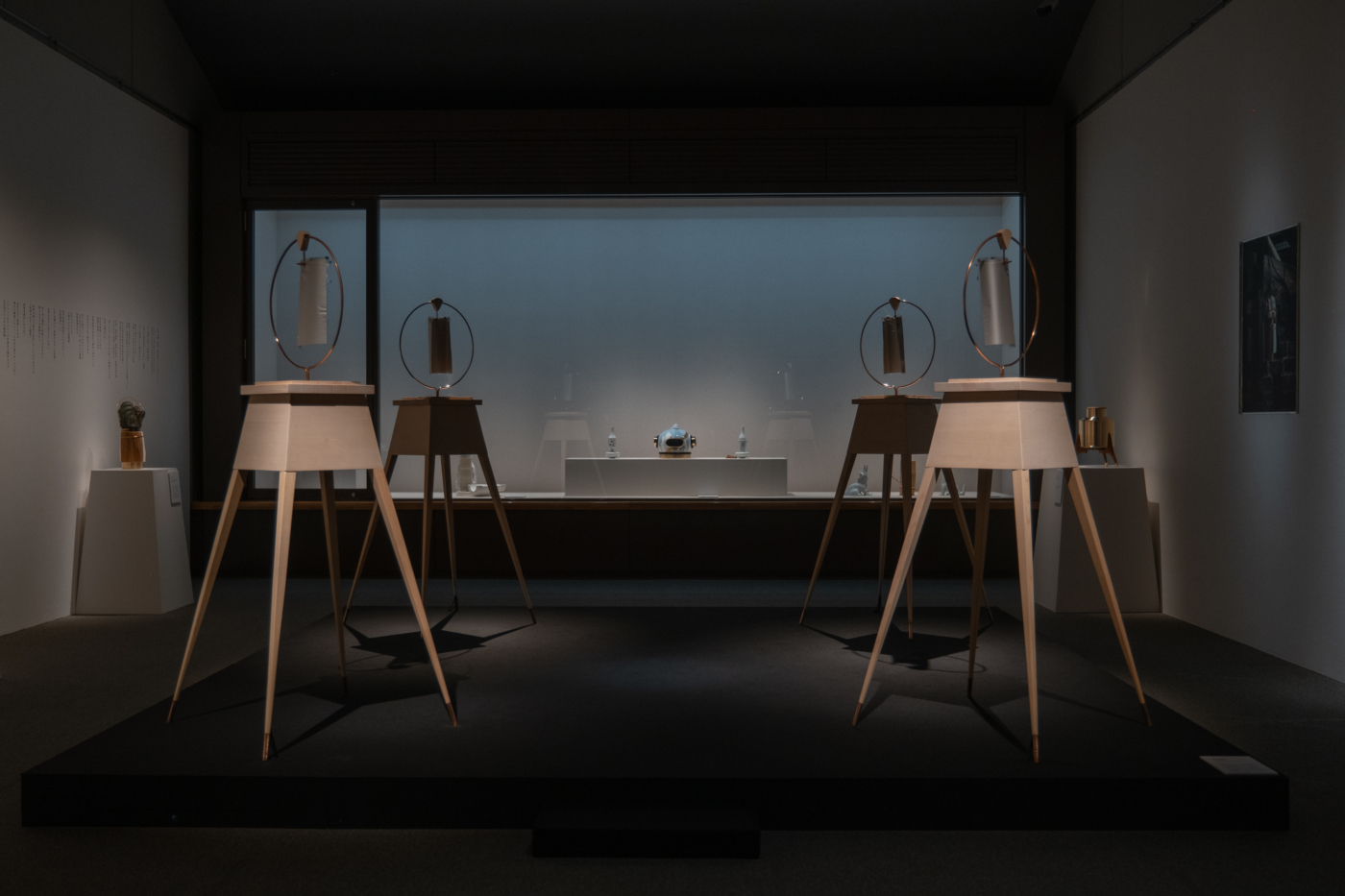 The time was the late Edo period.
Patriots from all over Japan gathered together,
exchanging passionate discussions looking into the future.
Here, in the treasure house of Dazaifu Tenmangu,
a "box", kept sealed since ancient times,
was mysteriously unsealed by someone.
Inside the box were items that seemed to be a fusion of old and new technology.
It's unclear who made them, for what purpose, and when.
A myriad of hypotheses, daydreams, and uncanny delusions spread throughout Japan.
Craftsmen of skills, who gathered to see the items, saw in them the root of their techniques.
Some perceived it as a "spacesuit (Sorafuku)".
Others said it was to send the souls of the dead to the underworld.
Universe, parallel worlds, the existence of other realms, and the shell of spirits.
We invite you to immerse yourself in the grand narrative spun by artist Shinichi Mita and other artists,
and to feel the inspiration of "breath" within it.
Participating Artists (Affiliation) alphabetical order
Shotaro Aoyama (NF / Hyogu)
Kohei Baba (Maruhiro)
Toru Horiguchi (Horiguchi Kiriko)
Motoi Ishibashi (Rhizomatiks)
Keigo Kamide (Kamidenoemongama)
Kentaro Kozuki
Housai Matsubayashi (Asahiyaki)
Kenichi Muramatsu (55)
Shuji Nakagawa (Nakagawa Woodcraft Hira Kobo)
Tatsuya Takemori (Rhizomatiks)
Toru Tsuji (Kanaamitsuji)
Takahiro Yagi (Kaikado)
Ichiro Yamaguchi (Sakanaction / NF)
Tomoaki Yanagisawa (Rhizomatiks)
Drawing: Yoshio Komatsu (JUR)
Artist Assistants: Ryusei Tasaki (Maruhiro) / Hitomi Aruga
Zoning Planner: Takahito Hosono
Creative Producer: Misa Nakamura (CAVIAR)
Producer: Hidenori Chiba (Rhizomatiks)
Art Director: Kei Maeda
Assistant Designer: Miki Kawamura
Lighting Designer: Masaaki Sato (B & Lighting)
Coordinator: Nobuyuki Baba (Dazaifu Tenmangu)
Curator: Eri Anderson (Dazaifu Tenmangu)
Shinichi Mita
in-Spire
Breath of life
Exhibition Period: June 10 (Sat) to August 27 (Sun), 2023. Closed on Mondays excluding July 17(Mon).
Opening Hours: 9:00AM – 4:30PM (Admission until 4:00PM)
Venue: Dazaifu Tenmangu Museum Special Exhibition Room,
Dazaifu Tenmangu, 4-7-1 Saifu, Dazaifu City, Fukuoka Prefecture 818-0117
Admission Fee:
General 500 (400) yen,
High School and University Students 200 (100) yen,
Elementary and Junior High School Students 100 (50) yen.
* The price in () indicates a group rate for more than 30 people. individuals presenting a disability certificate, as well as up to one accompanying person, are kindly admitted at half the regular rate.
Organizer: Dazaifu Tenmangu / Planning: Shinichi Mita