The Teahouse for Different Abilities Ⅵ, Chiaki Wada + Unasaka Nakamura + Ryuichi Sakazaki
Date

2019.10.05 - 2019.11.04

category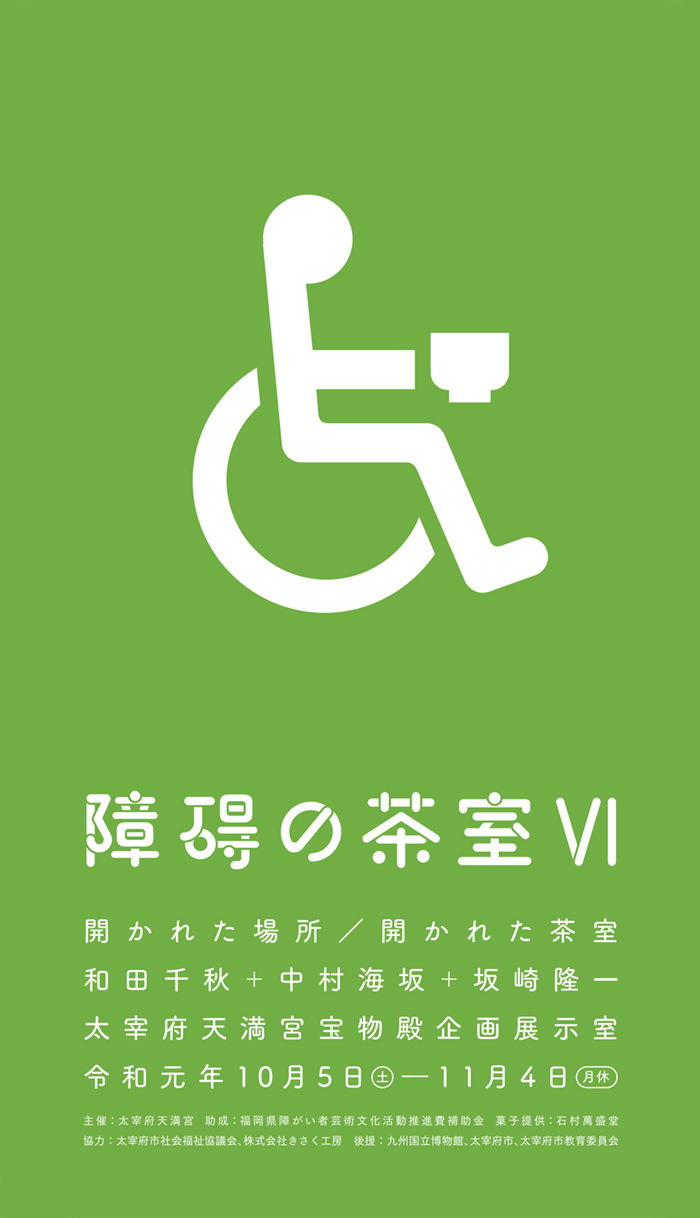 History of "The Teahouse for Different Abilities"
Chiaki Wada started his career as an artist in 1980.  In 1987, His older son was born and has disability.  Chiaki started the series of art works called "The Art of Different Abilities."  The series are "art works facing toward various issues of disabilities" and also art works for rehabilitation of contemporary art which separated from society.
Unasaka Nakamura has trained himself as a tea master of the Japanese tea ceremony since 1975, and started guidance for younger people since 1983.  As his sister is disabled, he voluntary started to be a helper for a brain-injured child training.  The child is the son of Chiaki.
In this way, Chiaki and Unasaka have known each other, and had dialogues about art and religion a lot.  Soon Chiaki was inspired by Unasaka's philosophy of tea ceremony, and got idea of "The Teahouse for Different Disabilities."  As Chiaki was a beginner of tea ceremony, however, he started his practices of it as collaboration with Unasaka (Hakata Riverain, Fukuoka City, Japan, 2000).
Ryuichi Sakazaki started his career as an artist in 1989.  His works are known for site-specific installations.  He often produces also construction or installation for art works of other artists.  At the second Tea House (Fukuoka Prefectural Museum of Art, Fukuoka City, Japan, 2001) which became larger than before, Chiaki and Unasaka requested Ryuichi to help them and to be a new member of Tea House project.  Third Tea house (Solaria Plaza, Fukuoka City, Japan, 2004), forth Tea house (Ube City Shopping Mall, Yamaguchi Prefecture, Japan, 2006), the design and construction by Ryuichi changes each time according to the venue, and the role is becoming more important for this project.
What is "The Teahouse for Different Disabilities"?
I had opportunity to listen to the lecture by Mr. Satoshi Fukushima, blind deaf-mute man.  He said "The most important thing for human being is communication.  Even if you have everything beside communication, you cannot live without communication.  If you have communication, you can live with it."  These words came from his experience.
As the essence of Mr. Fukushima's words, we consider that art is a tool for communication.  Art works mediate communication between artists and audiences, artists and society.  And we also consider that the Japanese tea ceremony has communication as its central subject the most in all arts.  However traditional tea houses refuse disabled people to enter inside because of its narrow entrance called Nijiri-guchi.  Originally Nijiri-guchi is narrow entrance which people should pass through bending themselves, so that it claims to invalidate the difference of people social position standing.  But the system doesn't suit demand of our time anymore.
In the book of "HEILENDE GEMEINDE?" (healing and salvation) written by Ulrich Bach, a Germany pastor with a wheelchair,
he says "The community without disabled people has disability."  As it says, traditional style of tea houses might have disability.  It also has distance from the philosophy of the Japanese tea ceremony which should accept all of people equally.  The basic concept of "The Teahouse for Different Abilities", from "teahouse with disability" into "teahouse for disabled people", comes from backgrounds as above.
At first, we enlarge Nijiri-guchi entrance so that people can pass through with wheelchair.  The height of Nijiri-guchi is supposed to be 140cm to avoid wheelchair people hitting their head.  However non-disabled people have to bend themselves to pass through, so that the entrance can remain its original function to make people modest.  Inside the teahouse, we make the floor smooth on which wheel chair people can move with ease, and produce a table on which people can serve and drink tea.
By the way, we don't have to regard this "The Teahouse for Different Abilities" as exceptional one.
Rikyu Sen, great innovator of the Japanese tea ceremony who devised Nijiri-guchi, didn't like that his pupils imitate their teacher's style obediently, but esteemed their original invention by themselves.  Since old days, we have a word "fuekiryukou."  The word indicates that you should arrange your expression along the times to express universal thing.  So we can say that arranging teahouse along the times is significant as the tea ceremony philosophy, that is consideration for guests all the times and faithful hospitality for guests.  Rikyu Sen imagined sincere communication and gracious hospitality of people.  With this "The Teahouse for Different Abilities," we hope to realize Rikyu's imagination between disabled people each other, and between disabled people and non-disabled people.
Text by Chiaki Wada