Fujiwo Ishimoto Ceramic Art Exhibition 'Shape of Fruits'
Date

2018.05.12 - 2018.07.01

Artist

category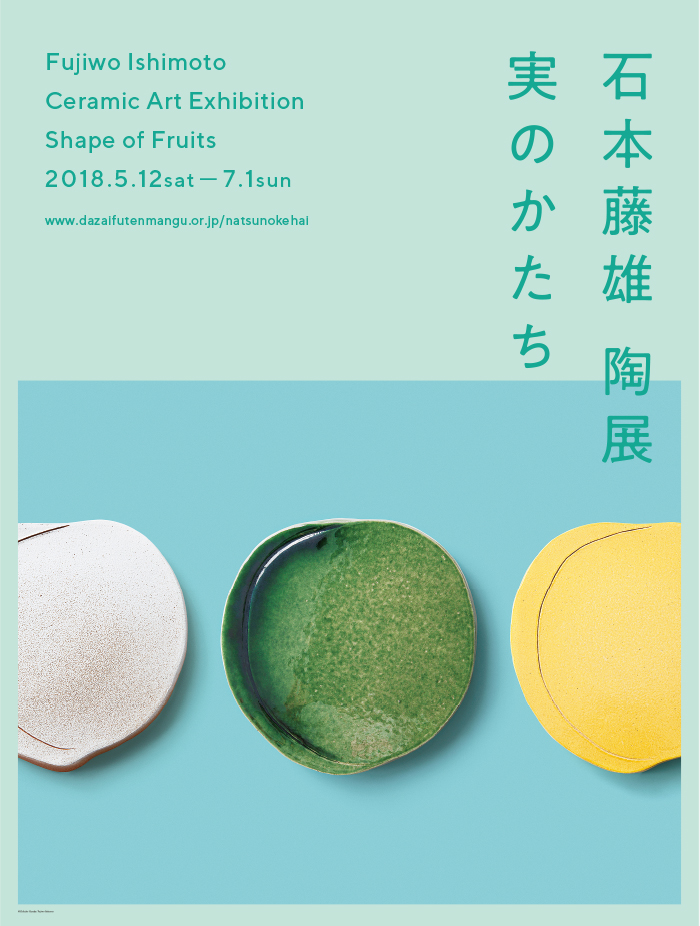 Dazaifu Tenmangu is pleased to announce the special exhibition 'Dazaifu/Finland- sign of summer' to take place at two venues in Dazaifu Tenmangu, one is Fujiwo Ishimoto's exhibition at Dazaifu Tenmangu Museum and the other is Nao Tsuda's exhibition at Bunshokan, a traditional Japanese wooden building, built in 1901, celebrating 1000th death anniversary of Michizane, which is a private space. Both artists have a great deal of relationship with Finland.
The theme of these two exhibitions is 'beginning of summer'. Ishimoto utilizes ceramics whereas Tsuda's consists of several landscape photographs. We hope that you can enjoy the feel of beginning of summer through the exhibitions as well as various forms of nature in the precinct.
Irises in the iris pond right in front of Bunshokan are at their best between early June and mid-June and plum fruits of 6000 plum trees in the precinct are ready to harvest in early June.
At the museum, new works by Ishimoto were exhibited. Plum fruits placed on the wall, are symbolic to Dazaifu Tenmangu, which he shaped and colored from memories of his childhood. The winter melons are created for the first time with different types of clay and glaze. In addition, Ishimoto worked on plates with motifs of various fruits specially for this exhibition.
Exhibition designed by:
ima (Kobayashi Takashi+ Kobayashi Mana), interior designer unit
A space design unit has experience in private housing, public space and individual products, with an ongoing focus on shop design. The unit actively extended its playground to overseas since 2010, having worked with 'marimekko'. They have also been participating in art exhibitions in pursuit of new design possibilities.
They designed the information center in Dazaifu Tenmangu.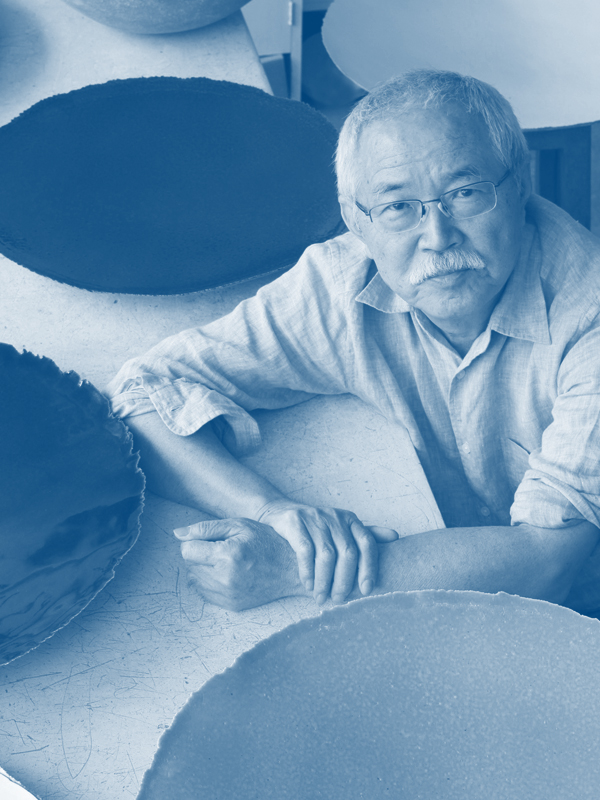 Courtesy of the artist
Fujiwo Ishimoto
Born in 1941. An award-winning Japanese textile and ceramic designer, who continues to have a significant impact on Finnish designs. He has worked with 'marimekko' as a textile designer between 1974 and 2006, has produced more than 300 patterns. He has been working at Arabia Art Department since 1989. He has largely worked on natural motifs like flowers, trees and landscape which have connection with traditional Japanese sense of beauty and nature.