Dazaifu Tenmangu Art Program vol.11 Mika Tajima "Appear"
Date

2022.05.15 - 2022.10.10

Artist

category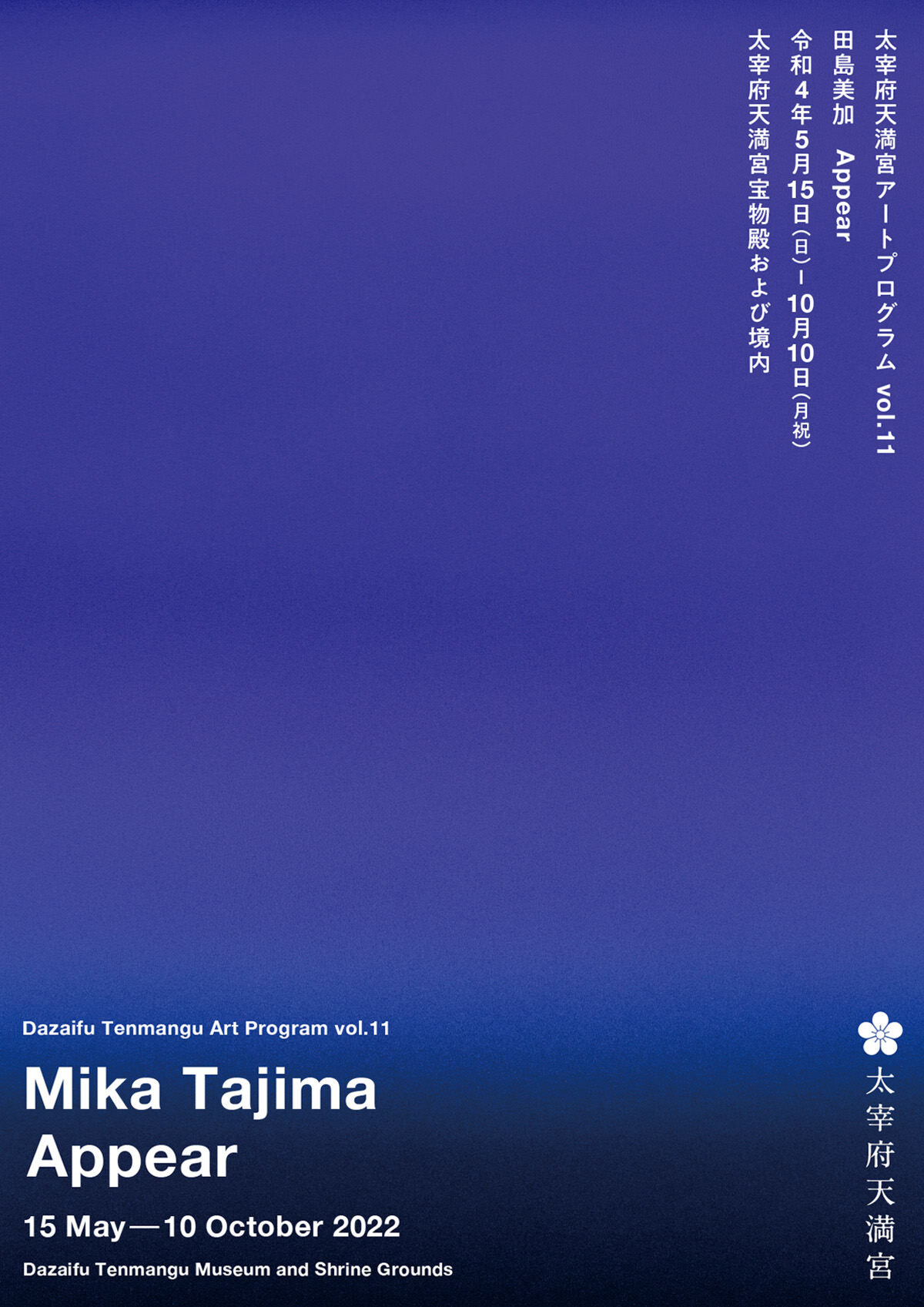 To "Appear" means to become visible and to be perceived, or to be made clear by evidence.
In the Eleventh Dazaifu Tenmangu Art Program, the latest installment in a series that began in 2006, Dazaifu Tenmangu is exhibiting the works of New York based artist Mika Tajima.
Born and raised in the United States to Japanese parents, Tajima's works have examined themes such as the interplay between West and East and transitions and transmutations of matter, energy, and human spirit, from a global perspective.
Visiting Dazaifu in 2019, she created ten new works that reflect her updated knowledge of the shrine and Shinto and her thinking on the cycles of Dazaifu Tenmangu's history of more than 1100 years.
The three-dimensional permanent installation "Echo" on the shrine grounds is a meditation sculpture that employs an energy cycle in which solar energy and black-light, named "Narcissus (Dazaifu)" are absorbed to charge phosphorescent pigments that then envelop the sculpture in glowing light. Inside the Dazaifu Tenmangu Museum, a range of works is on display including "Negative Entropy", which depicts audio recordings of prayers at the Honden that have been programmed into abstract patterns and woven on Jacquard looms.
This program provides an opportunity to encounter a number of works created by Mika Tajima to visualize the energies of nature and the human spirit, as the fruits of her exploration, conversations, and lengthy contemplation on the shrine grounds.
From 15th May to 10th October, 2022
※Closed on Mondays except 18th, 25th July, 15th August, 19th September, 10th October
Opens:9am-4:30pm(last admission 4pm)
Venue:Dazaifu Tenmangu Museum
〒818-0117, 4-7-1 Saifu, Dazaifu, Fukuoka
Admission fee:Adults 500(400)yen/ University, College and High School Students 200(100)yen/ Junior High School and Elementary School Students 100(50)yen
※( ): groups of more than 30 people, Persons with disability and one person accompanying each of them are admitted half of charge
Organized by Dazaifu Tenmangu
Cooperated by TARO NASU
Technical supervision by SUPER-FACTORY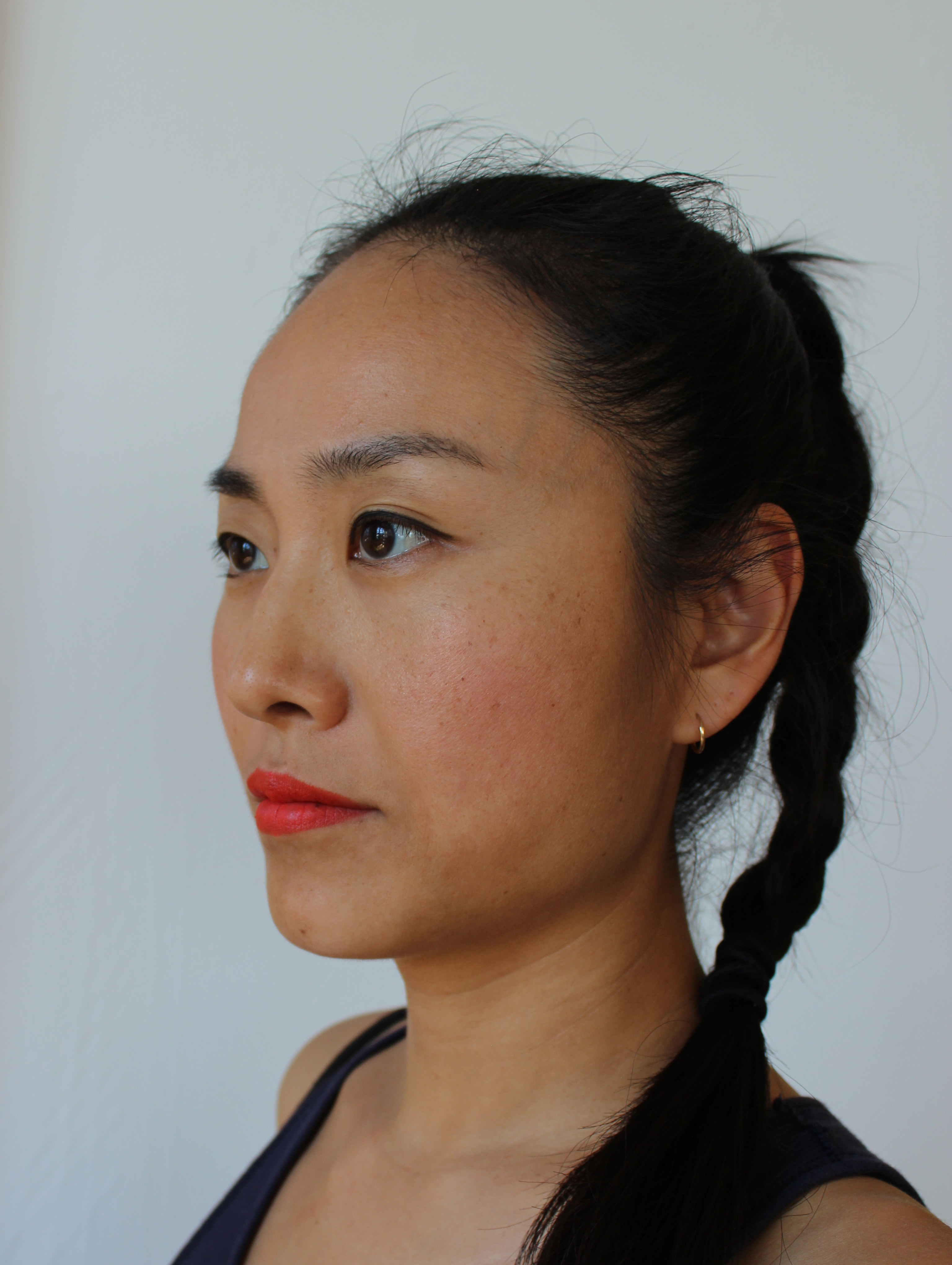 Courtesy of the artist
Mika Tajima
Born in 1975 in Los Angeles, USA
Lives and works in New York, USA
Tajima is known for her work in a variety of disciplines including sculpture, architecture, music, and performance. In Japan, she has participated in the 'Roppongi Crossing 2013: Out of Doubt', show at the Mori Art Museum, Tokyo, in 2013, and received high acclaim for her installations combining works by the modern architect Le Corbusier and her own works. Her solo exhibition 'Spectral' at TARO NASU will be held from May 21 to June 18, in 2022.
Her major solo exhibitions have included: 'ÆTHER', Borusan Contemporary, Istanbul, Turkey, 2018; 'Touchless', TARO NASU, Tokyo, 2017; 'Meridian (Gold)', Sculpture Center, New York, USA, 2016; 'Human Synth', TARO NASU, Tokyo, 2015; 'Pyramids and Pineapples', Aspen Museum of Art, Aspen, USA, 2012; 'After the Martini Shot', Seattle Art Museum, Seattle, USA, 2011; and 'The Double', Bass Museum, Miami, USA, 2010. She also participated in the 'Hawai'i Triennial 2022', Honolulu Museum of Art, Hawaii, USA, 2022; 'Okayama Art Summit 2019: IF THE SNAKE', Okayama, 2019; 'Programmed: Rules, Codes, and Choreographies in Art, 1965–2018', Whitney Museum of American Art, New York, USA, 2018; and 'Today is Not a Dress Rehearsal' with Charles Atlas New Humans, San Francisco Museum of Modern Art, San Francisco, USA, 2009.